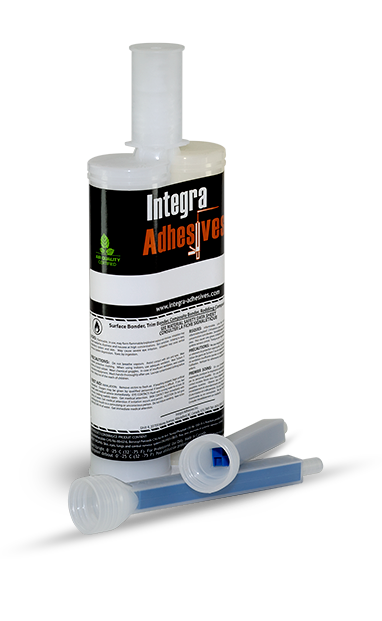 Substrate Bonder SB100
Flexibele, 2-component Polyurethaan, bevestig quartz-, composiet- en natuursteen aan houten, metalen of composiet-stenen verstevigings-strips
Uitstekend geschikt voor snelle verwerking (hard uit in 5 tot 10 minuten)
Korte uithardingstijd, versnelde montage
Vervanging van silicone of smelt-lijmen
Hoge sterkte en flexibiliteit (flex >100%)

Substrate Bonder SB100 heeft een korte uithardingstijd, 2-componenten polyurethaan lijm om materialen aan werkbladen te bevestigen. SB100 werd ontworpen om sterke, uiterst flexibele verbindingen te maken tussen Solid Surface, composietsteen, graniet, quartzwerkbladen en materialen zoals MDF, multiplex, PVC, HPL en ABS. SB100 vermindert sterk de montagetijd. Uitharden is mogelijk in amper 15 minuten terwijl het bij silicone gemiddeld 12-24 uur duurt om voldoende hechtsterkte te bekomen. SB100 is verpakt in een 1:1 mengverhouding 200ml koker, en kan voor veel toepassingen worden gebruikt die normaal gesproken silicone of smeltlijmen zouden vereisen.

Applications
Substraat Attachment
Wood, MDF
PVC, HPL, ABS
Solid Surface
Quartzwerkbladen en Materialen
Graniet
Wandpanelen
| | |
| --- | --- |
| Appearance — Component A | Straw colored, viscous liquid |